Storm Damage Roof Repair in the Columbus, Westerville Areas
Roof damage from a storm? Start with a roof inspection!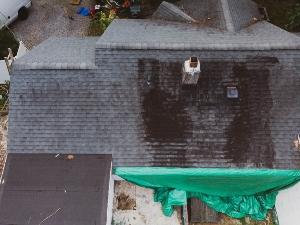 Klaus Roofing of Ohio roofers are experienced in storm damage repair, hurricane damage repair, and other roofing issues caused by high winds and heavy rains.
Storms can wreak havoc on roofs. Shingles that have lifted, curled up, cracked, or blown off can leave your home's roof, attic, or interior vulnerable to wind-driven rain or moisture damage. Severe storms can cause unseen leaks that may lead to bigger problems later. After a storm, getting a roof inspection from an experienced, licensed roofing contractor is always a good idea. Klaus Roofing of Ohio offers free roof inspections, and we know how to look for roof damage safely.
Don't wait! Book a roof inspection to address any potential problems before they start. We offer free storm damage roof repair estimates in Columbus, Westerville, Newark and surrounding areas in Ohio.
Does your roof need storm damage repair?
Some roof repairs can be delayed, but others may be needed quickly to protect your home from permanent damage. Identifying the signs of major storm damage is key when discussing necessary repairs.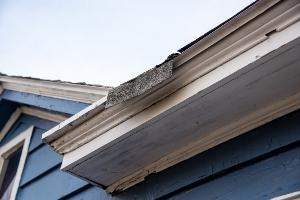 Our roofers can replace damaged or torn-off roof shingles after a storm.
These are the most common visible signs of storm damage. Our roofers know what to look for and can help you determine the best action plan.
Signs of roof storm damage:
Visible damage to siding, deck, windows
Damaged or missing shingles
Water damage inside your home or on the roof
Granule loss
Leaking, clogged, or broken gutters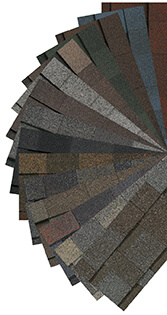 Ask about our durable, weather-resistant asphalt shingles.
Storm recovery services for your roof
Tarp protection for damaged, leaking roofs. We will install temporary tarps to prevent further water or snow intrusion if your roof is penetrated or caved in by fallen trees or branches or has sustained hail damage or damage from high winds.
Temporary, immediate roof repairs. By patching damaged roofing and performing emergency roof repairs, we can help keep the interior of your home stay dry until permanent repairs can be undertaken.
Permanent roof repairs, done the Klaus Roofing Way. Once your home has been protected, our professionals provide comprehensive repairs to fix your roof and prevent future damage. Typical roof leak repairs include securing curled shingles or replacing damaged or missing shingles. Spot repairs may extend the life of a roof in overall good condition.
Request a free roof inspection and estimate.
Prepare for future storms with a durable Klaus Roofing System
We install premium-quality asphalt shingles that offer peace of mind and protection from inclement weather. These heavy-duty shingles with features designed to increase impact resistance, resist wind uplift, and prevent roof leaks. Available in a wide range of high-definition color blends, they also look fantastic, boost curb appeal, and can potentially increase the resale value of your home. Even if you live in a high-wind and storm-prone area, you can trust your home to the quality of a Klaus Roofing System.
Free roof inspections and honest estimates for storm damage repair
Get your home and your lives back to normal quickly following a bad storm. Contact Klaus Roofing of Ohio for storm damage repair in Newark, Westerville, Columbus, and nearby areas throughout Central Ohio and many other parts of Ohio.
Looking for a price? Get a no cost, no obligation free estimate.