The Klaus Roofing Way in Columbus, Westerville & Nearby
Setting higher roofing standards for better results in Central Ohio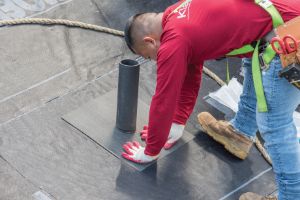 We promise to protect your home during every phase of your roofing project.
Your roof protects your home and everything you cherish inside. So why do so many roofers cut corners? Klaus Roofing of Ohio is committed to The Klaus Roofing Way, which ensures stability, strength, and protection in every layer of your roofing system.
From prepping your home to selecting high-quality materials, we guarantee top-notch service from start to finish. Schedule a free roof repair, roof replacement, or roofing service estimate to learn more about the professional roofing company helping people throughout Central Ohio. We proudly serve Ohio homeowners in Columbus, Westerville, Newark, and nearby.
What is the Klaus Roofing Way?
Choosing a roofer or roofing company that provides quality solutions, products, and customer service can be difficult. Especially since faulty craftsmanship, late or missed appointments, and poor communication are just some of the common issues that happen during a roof repair, roof replacement, or small roofing project. That is why Klaus Roofing of Ohio is a part of The Klaus Roofing Way - which guarantees quality at every layer of your roof repair or replacement, as well as a trained project manager to ensure open communication and complete property protection.
Roofers who are a part of The Klaus Roofing Way commit themselves to higher standards, are trained in modern roofing techniques, and maintain proper licensing. Klaus Roofing of Ohio takes pride in providing your home with quality and long-lasting roofing solutions, whether you need a small roof repair or a complete roof replacement. Learn more about the benefits of choosing a roofing company that holds itself to such high standards, The Klaus Roofing Way.
Our roofing standards:
Property protection: We prep your home, yard, and other delicate areas before the project even begins. This ensures a safe site all throughout your roof repair or replacement.
Superior work & materials: We guarantee superior asphalt shingles, wide sheathing seams, hardware, trim, and more to produce strong decking, underlayment, flashing, and eaves.
Leak-proof roofing: Whether you're getting roof repair or roof replacement services, our goal is to strengthen the underlying structure and to assure maximum leak protection.
Trained staff: We offer live courses at our 55,000 square foot headquarters in Windham, CT, which covers roofing systems, roofing problems, and best practices. Our staff also learns about ventilation, moisture control, leaks, storm damage, ice dam prevention, and more.
Quality craftsmanship: We are OSHA compliant, licensed, and trained to provide superior roofing services, such as roof inspections, roof repairs, roof replacements, and more.
Clear communication An on-site project manager ensures clear communication, courteous service, and a neat job site.
WOW! Service: From the very first call to the end of your roofing project, we promise the best customer experience possible. Our exclusive customer-focused service program can't be found anywhere else.
No-Nail Pledge: Lost nails can cause injury to children, pets, and car tires. We promise not to leave any behind. We even offer a No-Nail Pledge which ensures $1 for any nail you find after cleanup – up to $100.
---
Why you should hire a professional roofer
When you are looking to have a roof repair or replacement done, it is important to hire roofers you can trust to get the job done right. Other roofing companies tend to come in, do questionable work that will last maybe a year or two (without bad weather), and leave a huge mess behind. Some roofers are self-taught, which means they do not have professional training or skills to ensure your roof is repaired properly. Entrusting the quality of your home to just any roofer can be a risk and a waste of money. The best way to protect your roof and everything that rests under it is to hire the roofing experts from Klaus Roofing of Ohio.
The roof acts as the first line of defense for your home, so it deserves to receive the best care. Following The Klaus Roofing Way, our roofers learn the best and most efficient ways to repair your roof. We also want to keep your home safe, which is why we prep and protect your property throughout the project and even offer a No-Nail Pledge to ensure the site is clean long after we leave.
Keep your home protected for years to come with help from the real roofing professionals at Klaus Roofing of Ohio.
---
Quality roof repairs & roofing services you deserve
Klaus Roofing of Ohio is a professional roofing company that takes pride in providing you with a beautiful roof, in a pain-free way. We follow The Klaus Roofing Way on every roof repair, roof replacement, and roof inspection project to ensure your home receives the best service. When you are looking for a professional roofing company to protect your home, contact Klaus Roofing of Ohio.
Schedule a free estimate on a roof replacement, roof repair, or any one of our roofing services today online or over the phone at 1-614-696-6440. We are proud to serve cities throughout Ohio, including Columbus, Westerville, Newark, Marysville, Delaware, Grove City, Hilliard, Galloway, Springfield, Reynoldsburg, and nearby!
Looking for a price? Get a no cost, no obligation free estimate.