Gutter Contractor in Westerville & Marysville
Expert Gutter & Downspout Replacements in Ohio
Good water management. A well-designed, professionally installed gutter and downspout system provides protection against erosion, plant damage, and basement flooding.
Having the right gutters is essential for preserving the overall condition of your home. Gutters that don't drain correctly or are clogged can overflow, causing costly damage to the roof and create pools of water on the ground that can seep into the basement.
Klaus Roofing of Ohio specializes in providing gutter and downspout installation to best prevent these problems. With new gutters, properly pitched downspouts, and the addition of gutter guards, you can be sure that your home won't have issues with water damage caused by gutters.
If you have issues with clogged or overflowing gutters, call us today at 1-844-745-9493 or click below to learn more about how we can help you. We offer free estimates in Delaware, Westerville, Marysville, Reynoldsburg, and the nearby areas in Ohio!
Things to consider when choosing gutters & downspouts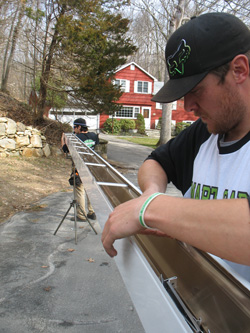 Custom made. An advantage of aluminum gutters is that they can be made to an exact size to best fit your house. The gutter-making machine is right on the truck, ready to transform aluminum sheet material into a finished gutter profile.
Because older gutters & downspouts can be difficult and costly to repair, many homeowners elect to replace old with new. Gutter and downspout choices are more varied today than ever before. The major decisions are explained below:
Materials: Gutters have traditionally been made from a number of materials, including wood, steel, copper, and seamless aluminum gutters. Aluminum gutters are most popular today because of their affordability, durability and color variety. However, many older homes require different materials to maintain an authentic appearance.
Color: Aluminum provides the most choice for color, as they can easily be painted however you want. Most gutter brands offer a wide variety of factory finishes for the best appearance as well.
Style: Different gutter "profiles" are available. Aluminum gutters are often formed in a "K" profile that includes a flat back section and a curved front. Half-round gutters can sometimes be found on older houses.
Size: K-style gutters come in 5-in. and 6-in. sizes. The larger size is usually specified when the roof area being drained is especially large and/or steep. An experienced gutter installer will be able to determine which size is best for your house.
Gutter guards: Gutter guards have become more and more popular recently and for good reason. These are a once and done addition that will prevent leaves, twigs, and other debris from clogging your gutters and causing overflows. Gutter guards are a smart addition to any gutter installation.
Additional drainage options: Downspout extensions are sometimes necessary to carry roof runoff away from the house. Many of these simply extend out over the yard or garden, while others consist of buried pipe that drains to a dry well or daylight outlet.
The contractors that provide complete gutter services in Ohio
Our gutter experts draw on their extensive knowledge and installation experience when evaluating your home. We can spot related problems such as damaged flashing or rotted fascia boards that require replacement or damaged flashing. In addition to gutter and downspout installation, we also install gutter guards to keep your gutter system performing as it should.
Contact the roofing and gutter experts at Klaus Roofing of Ohio by calling 1-844-745-9493 or fill out the online form for a free inspection and cost estimate! We offer all our gutter services in Galloway, Hilliard, Reynoldsburg, Newark, Mansfield, Columbus, Springfield, and throughout the surrounding areas.
Looking for a price? Get a no cost, no obligation free estimate.